I use PLEX running on a Raspberry Pi, it works really well, bit of a faff moving stuff from win10 machine tp pi, but could probably be automated
There is a windows plex server so since dvrontime and ad breaker both require windows it would seem logical to run plex there as well.
Unfortunately it seems that my Buffalo LS220D NAS server doesn't have a Plex server
My LG TV has a Plex client app but doesn't have a Kodi app so I couldn't use that without yet another box attached to the TV and network.
I was able to set up Plex on my pc pointing to the library on my PC but I need to look at the scanning settings.
It is is OK where there is series and episode info

but is no good for my BBC new folder where there are many files from different date but all S00E00 - it only shows one episode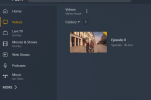 even worse is my Movies folder (mainly exported from humax so the have so .nfo sidefiles)

I have no idea where it is getting the (wrong) episode and series info from - each file is a different film
Any suggestions what the scan settings should be?
Last edited: