Administrator
Staff member
I'm not sure if it is good form to reply to old threads, but... are you still considering these features, please?

I would like to add my request for expiring based on the number of files in a dir, not just how old they are.

I record several series for my daughter, so she has things to watch when there's nothing on live. I don't want to keep more than the last 6, say of each series. But I don't want any less than that, either.

With the current auto-expire, if I set it to 6 days, it will do what I want until that series stops, and then it will slowly empty that dir until there are none left, right?

So, either having a "number of programmes" option, or perhaps sticking with days, but allowing a "leave at least X progs behind option"? or both?

thanks much indeed.
This has finally made it to the top of the list. I've been playing around with a new settings screen for this feature. I'm not exactly happy with the layout and words yet but does this look like it would do what you want?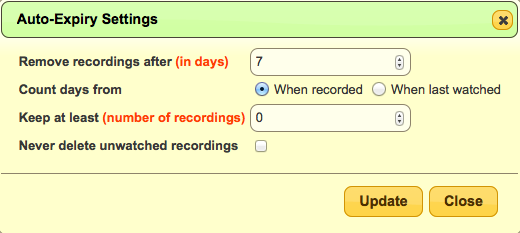 Any comments on the wording/options from anyone?