Administrator
Staff member
I've just published webif version 1.0.5 to the repository and updated the release notes on the Wiki for this and the previous few versions. Mostly minor backend changes and bug fixes but 1.0.5 adds a new summary screen for seeing where your disk space has gone. It's accessible via Diagnostics->Disk Space but also just by clicking on the big pie chart at the top right.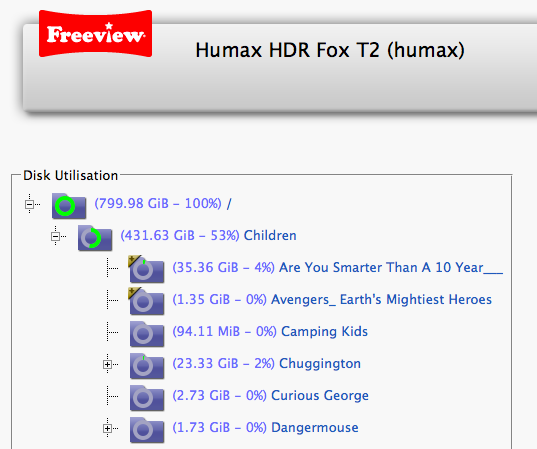 Change Log (from
http://wiki.hummy.tv/wiki/Webif_release_notes
)
1.0.5 (30/07/2013)
New disk space overview screen Diagnostics->Disk Space or click on pie chart at top left;
Flag cropped recordings as shrunk too.
1.0.4 (11/07/2013)
Fix typo in crontab preventing automatic backups from running;
Tweak style of file edit box;
Make folder operations recalculate the folder new flag if necessary;
Updates for new channel icon package framework;
Fix Mux detection for PSB3/BBC B (HD) following broadcaster changes.
1.0.3 (6/6/2013)
New browser bookmarks/tab icons;
Improve cron job management during package operations (thanks to xyz321);
Fix miscellaneous HTML problems;
Disable change folder action on single recordings;
Add further automatic processing plugin hooks.
1.0.2 (17/04/2013)
Show total number of files and directories on media browse pages;
Improve context menu placement;
Implement plugin hooks for automatic processing.
Include databases in /mod/etc in web interface database browser.