May contain traces of nut
I am trying – unsuccessfully – to identify the cable-to-board connectors used in the HDR-FOX. There are three of the same type: 3-pin for the fan, 4-pin for the front USB, and 12-pin for the front panel assembly. The connector from the PSU is similar but different.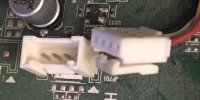 It's 2.0mm pitch, fully shrouded with an external latch. The nearest match I have found is Molex Sherlock... but not quite. Similar JST connectors have an internal latch. Any ideas?